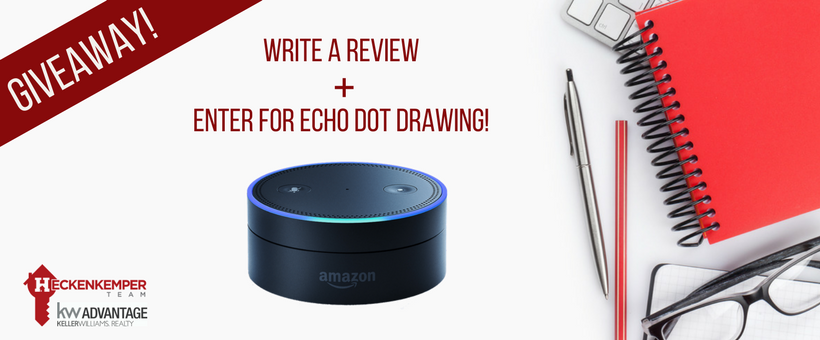 Do you have a story to tell about working with the Heckenkemper Team?
If you read any of our past client reviews, thank you! I value all the feedback I can get and we do everything we can to earn your five star review as well.
I'd like to ask you a favor: Will you take a few minutes and write a review of your experience with us? If you remember when we first started this process, I promised I would earn your five-star review. I hope I've fulfilled that, but most importantly, I want your open and honest feedback so that other consumers who read your review will know what it's like to work with me.
Submit a review on Facebook, Zillow or Google by March 31st at 5pm and we will enter your name into our Amazon Echo Dot Giveaway Drawing! That's it, that's all you have to do write a review and your name will be entered for each review you submit. Drawing to be held during a Facebook Live announcement on Tuesday March 3rd at 9AM!
* FACEBOOK
Here is a link to leave us a Review on Facebook
https://www.facebook.com/heckenkemperteam/reviews/
* ZILLOW
Here is a link to our Zillow Review Form
https://www.zillow.com/profile/maxheck54/#reviews
You'll be prompted to register your email on Zillow as a part of submitting a review (Zillow will never share your email with a third party). It only takes a moment and it helps ensure that reviews are from actual clients.
* GOOGLE
Here is a link to leave us a Review on Google
http://bit.ly/2tOH13G